The prices above are effective as of October 1, 2023 for all new clients, and as of January 1, 2024 for our current and past clients. Please understand that it will take a few days to update certain website listings.
Due to recent high inflation, these increases are required in order to cover our cost to continue to do business.
We understand that you have also been affected by rising costs, which is why we will honor prior pricing (established in 2018) to our current and past clients until December 31, 2023, provided full payment is received by then.
We have also partnered with Afterpay! Just let us know if you choose Afterpay before you are invoiced so you can pay it in 4 interest-free installments.  *See https://bit.ly/AfterpayTerms for complete terms.
WE NOW OFFER AFTERPAY!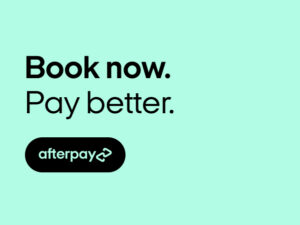 Pay over time!
Choose to pay in 4 interest-free payments. *See https://bit.ly/AfterpayTerms for complete terms.
Due to technical invoicing limitations, please let us know if you prefer this option before we invoice you.
---
You have the option of hiring one or two organizers.  We highly recommend two organizers for at least the first session. Two organizer packages are more efficient and productive than one, giving you "more for your money." While one of us concentrates solely on you and your needs, the second keeps things moving.
If you are not ready to commit to more than one session, consider beginning with one session to see how things go.  By the end of the first session, we will have a better idea how many more sessions it may take to complete your project goals. We do not provide estimates because there are often unforeseen circumstances that affect it. As we uncover things below the clutter, additional project needs may arise unexpectedly. Additionally, the time it takes to declutter, downsize, and organize the things within your home depends on many factors, including how quickly you can make decisions about what could be removed, the amount of space available to work in, and the overall volume of items you own.
We do like to work in 5-hour sessions. We have found this to be just enough to be extra productive while preventing mental and physical fatigue for everyone involved. We typically begin mid-morning, working 2.5 hours, take up to an hour lunch break, and then work another 2.5 hours. We are flexible, though, and can work 5 hours straight through, with a short break somewhere in the middle.
Our clients are often surprised how mentally exhausting a 5-hour day can be. We do not recommend scheduling consecutive days for those with any health concerns. A break between sessions can be very helpful, as it allows for both physical and mental recovery, as well as time to work on any "homework."  However, if you prefer consecutive days, our organizers are able to do this work up to five consecutive days each week, mostly because we are not emotionally attached to your things.
The bigger the package, the bigger your savings, so you will want to consider how big the project is. The more items there are to be sorted or removed, the more time it will take to complete. One room or large storage space typically takes at least one full session. However, multiple small closets may be completed in one session. Most average sized kitchens can take at least two sessions. These are typical minimums, but not every household is the same.
*Additional hours that do not add up to a package will be charged at the regular hourly rate.
Book your appointment with Becky by clicking HERE.
Or call us to find out when other organizers from our team are available!
Payment Policy
Appointments require a $100 deposit per appointment day. The deposit is due immediately to secure your appointment date(s) and is refundable up until five working days prior to the scheduled appointment. The deposit is nonrefundable if you opt to cancel the job (without rescheduling) within five days or less prior to the scheduled appointment.
The balance of Package Pricing is due in full by the end of the first scheduled session, otherwise regular hourly rates will apply.
Packages are non-negotiable and non-refundable, and appointments must be used up within 30 days beginning the day of the first session, unless our schedule availability prohibits it.
Payments can be made by Credit Card online or in person, Cash App, Venmo, PayPal, Cash, or by Check made out to Organize My Clutter. Invoices are sent through email or text with a link to make secure online payments. (We never see your credit card information if you choose to pay online.)
Additional costs for large quantities of trash bags, supplies, or organizing products are billed separately.
For questions about our policy regarding any travel time and mileage fees please see Service Area and Travel Fees
NSF checks are assessed a $35 returned check fee.
We are unable to give estimates,
but we have a solution!
Every project has too many variables to give an accurate estimate. The time it will take to finish depends on many things. They include the overall amount of clutter (visible and non-visible,) the amount of open space available for sorting and staging, your personal attachment to various items, your personal ability to make quick decisions, and much more. Although every situation is different, we can assess your needs over the phone, and we may, although rarely, request photos to have a better understanding.
If you are unsure how many hours you need, we recommend starting with a 5-hour session with 2 of our organizers. When we arrive, we will take a tour of the home and briefly discuss what your priority concerns are. Once we agree on an area to begin, we jump in. While working at your pace, we learn more about you, your needs, your sentimental attachments, and your ability to make quick decisions.
By the end of this first session, we will have good insight and can better guess the approximate time we think it will take to accomplish your project goals. At that time you can decide how to proceed. You may opt to purchase a larger package or pay just for that day's session, or you may even opt to work with one organizer instead of two in future sessions. We believe in flexibility and only want to work at a pace that is comfortable for you!
All matters are kept completely confidential and will not be shared without your written consent.
We will help you throughout the entire process, however necessary, and we will work with you in a way that will inspire you to take what you have learned onto other areas in your home and life well beyond our working relationship.
Organize My Clutter is pleased to provide you with professional organizing services. We strive to represent your interests efficiently and professionally and to ensure that you receive effective organizing services at the most reasonable cost possible. Our rates and fees are based on business necessities to maintain our growing company and are subject to change without notice.
Discounts
10% off Hourly Rates
OR
5% off Package Prices are available to:
Seniors aged 65 and older.
Military Personnel and Veterans
Realtors, and *Professional Referrals
*Professional Referrals - This program gives these discounts to New Clients (of any age) Referred by Professionals in the mental health and physical health industries, along with estate lawyers, guardians, trustees, funeral directors, social services, and government agency and emergency officials.
Cancellation Policy
■ Weather-related cancellations will follow the decisions of Clinton IL (DeWitt County) and your local school districts, and NO cancellation fees will be assessed.
■ Cancellation requests require a notice by PHONE only. Earlier notices are greatly appreciated. Client should call the OMC phone number (217) 519-1919 and leave a voice mail or text message if there is no immediate answer. PLEASE ADHERE TO THIS PROCEDURE. Due to administrative time constraints while working daily with clients, emailed messages are often monitored only once per day, sometimes less, at any given time of the day. For this reason, an email will not constitute sufficient notice.
■ The deposit is refundable UP UNTIL FIVE BUSINESS DAYS prior to the appointment, or you can opt to apply it toward future work.
■ The deposit is NON-REFUNDABLE if you cancel your appointment FIVE BUSINESS DAYS OR LESS prior to the appointment WITHOUT rescheduling.
■ Cancellations made UNDER ONE DAY prior to the appointment, will be assessed a $100 cancellation fee. The deposit can still be applied toward future work, if the cancelled appointment is immediately rescheduled, and the cancellation fee has been paid in full.
■ Missed appointments will be assessed a $200 cancellation fee plus any mileage expense and/or travel time above the 50-mile/60-minute radius. The deposit can still be applied toward future work, if the missed appointment is immediately rescheduled, and the cancellation fees have been paid in full.
Additional Costs
Your cost of organizing supplies, product purchases, or outside services, are extra at no additional mark-up to you.
A shopping fee may or may not be charged based on the time and travel requirements.
In the event an outside service is hired for specialized construction, repairs, installations, dumpster rentals, etc., we respectfully request the client pay them directly, rather than through us.
Most jobs require bags, boxes, or bins to sort items into categories.
We keep handled paper bags on hand for sorting which are also useful for delivering smaller donations. These are provided at no extra charge.
If you prefer to use them we can provide easy to assemble bankers boxes for $3.00 each, which are suitable for long-term storage in climate controlled areas.
We also provide XL 3 MIL contractor trash bags to use for trash and XL clear bags for soft donations. If an excessive number of bags are used we will charge $1.00 each.
Donations can also be contained in salvaged boxes you may already have on hand.
Plastic storage bins are great for any long-term storage and many homes already have them. However, we do not recommend purchasing any ahead of time until we have worked with you for at least one session.
Pre-purchasing any organizing products can often just lead to more clutter, and less working space. Please avoid the urge to do so. Product recommendations will be discussed during our sessions.
Occasionally, decluttering jobs are simply too big for just the client and our professional organizers to handle.
In these cases, we may need to contract additional help, usually from local young adults or through a temp service. Each additional helper will cost $25 per hour.
In the long run, having additional helpers will save the client money, because they will dramatically cut down OUR time by assisting in the physical needs of the job, producing much faster results.
Travel time and Mileage expense fee.  Please see Service Area and Travel Fees
Paper Organizing Packages
Affiliate Disclosure:  As an affiliate for FreedomFiler®, we may earn a small commission if you make a purchase through any of our affiliate links without any extra cost to you. It enables us to keep FreedomFiler® supplies in stock, and to buy an occasional latte. Thanks for your support.
What is FreedomFiler®?
The FreedomFiler® Filing System* is a self-purging / self-maintaining paper filing system. FreedomFiler's color-coded labels represent how long to keep documents. Once you begin using FreedomFiler® you will never again have to take time out of your life for cleaning out or reorganizing files!
Premium Freedom Package
$175.00 for the system, plus a 5 hour package or higher.
Our FreedomFiler® Organizing Consultant is also our owner and Certified Professional Organizer®, Becky Rogers. She will bring a FreedomFiler® Ready-Made System directly to your home and provide hands-on one-on-one FF® training, set-up, and customization to meet all your filing needs. The 2-organizer/5-hour package is highly recommended for this service, because label-customization to your needs can be very time consuming.
Freedom Training Package
Choose a 5-hour package or higher.
If you already own a FreedomFiler® system (or you can purchase it here) you may opt to hire a FreedomFiler® Organizing Consultant to help you set it up, customize it to your needs, provide hands-on training, and conquer the initial filing of all your papers. (Average session is 5 hours.)
freedomfiler® group training
$85.00 Per Person  + $175 Per Ready Made FreedomFiler® System (if needed.)
With OMC's FreedomFiler® Group Training, you can save some money by signing up for a training class with other FreedomFiler® users. If interested, please call us to see when the next class is scheduled. Classes are scheduled based on current demand and require a minimum of 10 participants. Class location is usually in Clinton, IL, but can also vary based on demand. The class takes a minimum of 4 hours and is usually held mid-day with a short lunch break.
guest speaking and presentations
Our speaking engagements and presentations can be tailored toward your specific group, club or organization's requested topic. During this time, we can teach basic organizing skills in general or specific terms, discuss the psychology behind chronic disorganization, introduce the pathways to our careers, all while interacting with the group and answering as many questions as possible. We use a laid-back method with little or no technology needs in our presentations, encouraging as much interaction as possible to ensure our time together is very valuable and worthwhile for all attendants.
Your speaker is Becky Rogers, Certified Professional Organizer®, and owner of Organize My Clutter, from Clinton, IL. Since 2008, Becky has worked with hundreds of clients across central Illinois. She has spoken and given presentations for countless groups including various senior groups, travel clubs, church groups, rotary clubs, mops clubs (moms of preschoolers,) libraries, conferences, community education classes, public seminars, and more.
group speaking topics:
Downsizing and letting go
Organizing things, time, and spaces
group speaking rates:
*Mileage and travel expenses apply. (Please see Service Area & Travel Fees.)
NONPROFIT GROUPS up to 40 miles from Clinton, IL:
FREE up to 30 minutes
$125 up to 60 minutes
NONPROFIT GROUPS beyond 40 miles of Clinton, IL:
$250 up to 60 minutes
$350 up to 90 minutes
COMMERCIAL GROUPS and Organizations:
$350 up to 60 minutes
$500 up to 90 minutes.
EDUCATIONal Community Classes and Seminars
Classes and Seminars can take anywhere from 2-8 hours in length, depending on the event host and topics to be covered. Topics are condensed or expanded with more detail based on length allowed. They can be split into multiple sessions and/or multiple days or evenings. Various organizing topics are covered using a more structured method than shorter presentations, but we still encourage interaction for a memorable and valuable learning experience.
Class and Seminar TOPICS:
Downsizing and letting go
Organizing things, time, and spaces
Hoarding prevention and cleanup
Becoming a professional organizer
Class and Seminar RATES:
Negotiable according to length of session/s, starting with Group Speaking Rates listed above.
A Word About Our Rates
    WE DON'T CLEAN HOUSES, WE CHANGE LIVES.  Decluttering and organizing homes can be a difficult and emotional process for most clients, and letting strangers go through your things requires a great deal of trust and confidentiality. We are hired more out of necessity, rather than as a luxury, to help clients improve their daily living and learn how to keep it that way. Hiring a professional organizer is a personal investment.
Not all service providers that claim to be "professional organizers" are trained by the organizing industry's top experts, but we are.!  Because you have chosen to expose your personal belongings and challenges to us, we take it very seriously. We do not judge and are here to help, not just provide a temporary fix. Our organizers are required to have non-judgmental personalities. Each organizer on our team either follows or has individually paid memberships to ICD, NAPO, and other organizations. These associations offer online classes, teleclasses, and conferences, which we often attend, to help us keep up on the wide and complex organizing industry. They also offer specialty certification programs for various types of service.
All this on-going education provides us with invaluable knowledge and allows us to serve you and your needs in the best possible manner. Because we work with both able-bodied and able-challenged clients, who have anywhere from minor disorganization to major hoarding issues, knowing and understanding these challenges is vital to the success of our work. We can help you through various life transitions like moving, a marriage or career change, or the onset of physical injury or illness. We work with ADD/ADHD, aging seniors with or without certain ailments, people in mourning, hoarders, and many other client types.
Even with all this in mind, our pricing is still comparable to other professional organizers in the central Illinois area. Nationwide you will find professional organizers charging as much as $150-300 per hour, per organizer. Our rates have been set based on many factors to be fair to both our business and our market area whom may not be as familiar with what has been a very fast-growing industry. On average, our work is around $50 per hour per organizer and as low as $45 with bulk packaging. Discounts are available to seniors, military, realtors, professional mental and physical health referrals, and social service agencies.
As with any business, we also have expenses including advertising, business liablility insurance, worker's compensation insurance, training, gas/travel, payroll, taxes, supplies, uniforms, occasional protective gear, and more. Regardless of business expenses, we are providing a service that you will receive many long-term benefits from. In many ways our services have been considered a therapeutic life-coaching experience. We will assist you in the physical aspects such as sorting and purging, and coach you through the mental and sometimes emotional decision-making. We will help you analyze and re-think your organizing habits in both your home and in your life.
All matters are kept completely confidential and will not be shared without your written consent. We will help you throughout, however necessary, and work with you in a way that will at the very least inspire you to take what you have learned onto other areas in your home and life well beyond our working relationship.
Thank you for your attention,
Becky Rogers, CPO®
Owner, Organize My Clutter
"If you think it's expensive to hire a professional, wait until you hire an amateur." – Anonymous
---
MAKE SOMEDAY TODAY!
Questions? Call us and get a FREE phone consultation by calling 217-519-1919 or 833-219-1919
Book your appointment with Becky by clicking HERE.
Or call us to find out when other organizers from our team are available.
We serve most Central Illinois areas including:
Bloomington / Normal
Champaign / Urbana
Decatur / Forsyth / Mt. Zion
Springfield / Lincoln
East Peoria / Peoria
EVERYWHERE IN BETWEEN AND BEYOND!